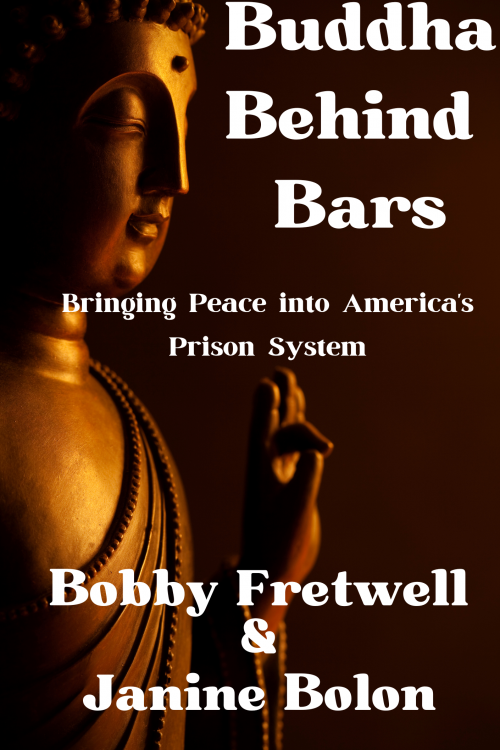 Seeking Beta Readers
Janine is currently working on her next project which is Buddha Behind Bars. This is a true-life story of the spiritual transformation of  Bobby Fretwell. An inmate who found self-realization behind bars. Janine will be sending out monthly updates on the book and interviews with Bobby until she starts actively writing on the project in November of 2023. The Book cover you see is the draft version. As more details are revealed on this project, you will be the first to know as well as have the opportunity to comment and make suggestions.
It is co-creating at its best, isn't it?
You will receive a free eCopy of the book when it is complete and published.
Proposed Publication date: February 2024
Details
Summary
Author Podcasting (published November 2021) is a guide to the author who wishes to promote their book without coming off as salesy. There is so much more to you, your book and your message that you can share with podcast hosts and their listeners. Podcasting is a form of marketing that can be done completely virtual, requires no expensive equipment or new software, and just needs your participation in a quiet room. Something you already have an as author!
Inside Author Podcasting, you will discover:

How a media kit sets you apart as a professional guest for show hosts

What a media kit is and how to build it for podcast hosts' best use

How to get onto more podcast programs. 

A checklist of things to do after you've been on a podcast show that promotes you and your show host 
All of this creates a Win-Win-Win for you, the host and the audience!
Details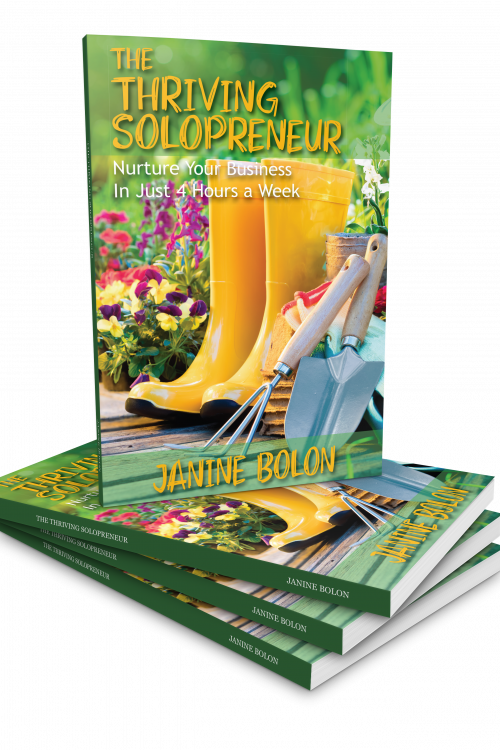 Summary
As a solopreneur, you wear many hats running your business. It is important that you pay special attention to your calendar when setting up your week. Remember th old adage, "Know the difference between working IN your business and working ON your business?" As a young business owner, I heard that statement a lot, and it gook me too long to decipher what it meant. These Critical 4 Hours that I am sharing with you are the core of working ON your business.
Janine's latest business book takes on the mainstream business industry and shares with you how a single-person run business can be profitable without working yourself into burnout. It is possible to dow what you love and get paid for it as long as you make sure to work ON your business for 4 hours a week.
Details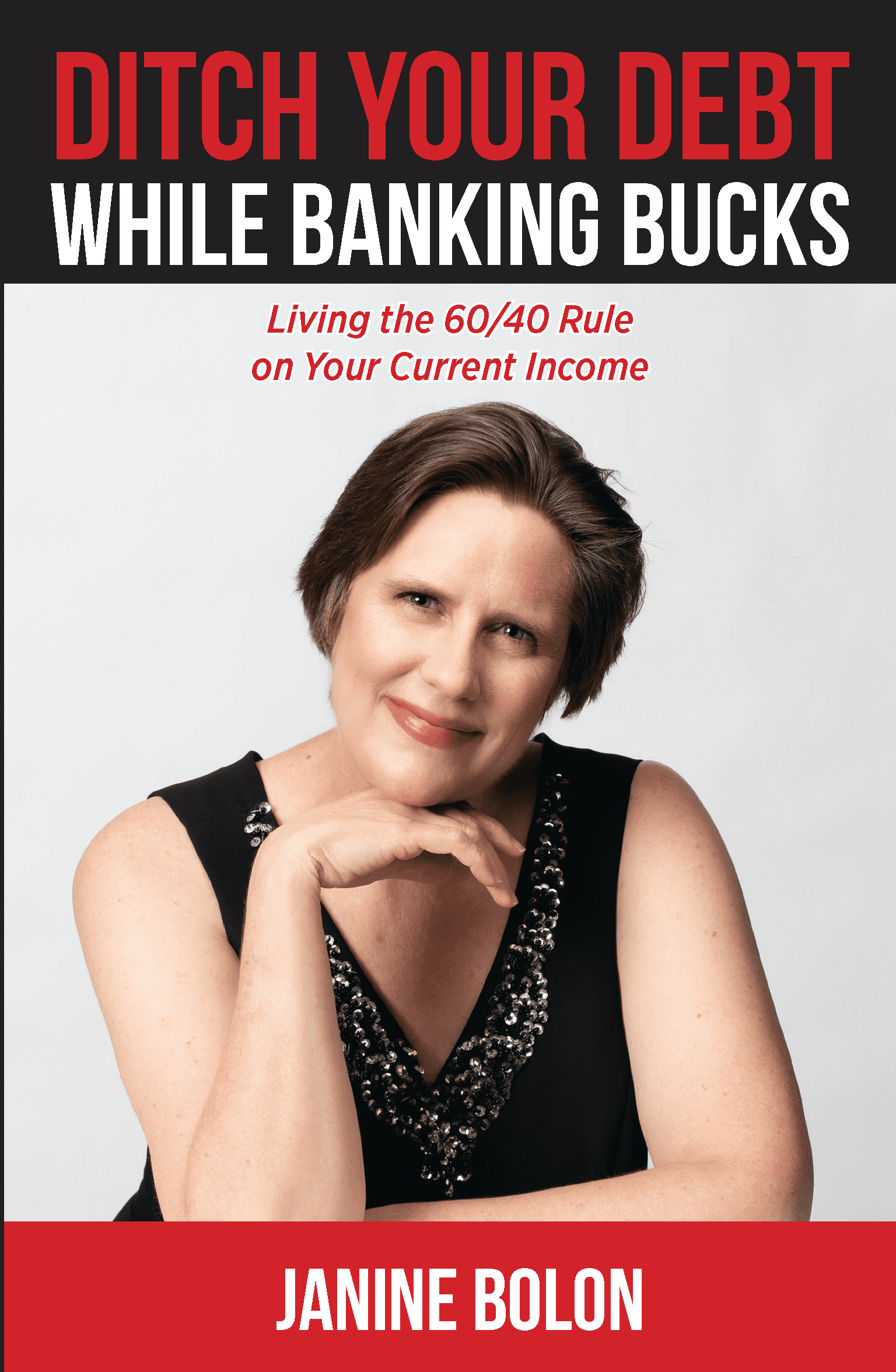 Summary
This book is the collection of 24+ years of teaching and research on the 60/40 Principle and how to integrate and  apply this principle in your own life no matter your debt load. This is beyond the theory of  debt-free living and gives you step-by-step, systems on how to get rid of your debt while saving money on your current income.
Details
Summary
Spiritual but not Religious?
You've come to the right place!
Expressing the Divine is the third installment in Janine Bolon's The Divine Series. In this volume you will discover:
Your Personal Spiritual Gifts

Different Labels of Mystics Expression

Creating Stability with the Four Disciplines

Creating Your Life Path Though the Pleasure of Routines

Powerful 3 Minute Meditations

Finding Future Vision in 3 Simple Steps

Fundatmental Frequencies for Every Mystic

Expanding Your Spiritual Gifts while Increasing Your Cash Flow
---
Janine is a sacred clown, Shaman, Bell Dancer and First Chakra Healer. She was initiated into the ThunderClan after being struck by lightning at the age of 10. After spending 20+ years working with an enlightened Hindu Guru and the Native American Grandmothers and Grandfathers, She provides shamanistic and spiritual healing for Relationships, Wealth and Life Path Transformations. Bring your intentions for the life changes you wish to share with others and she will guide you in your expression.
Details
Summary
Volume 2 of the Divine Series. 
What you are in the eyes of God is unlike anything you've been taught, that is, if you've been raised Catholic like me. This book is dedicated to any seeker who craves a one-to-one conversation with God. Allow me to show you how it can be done. In this book I'll share with you: How Sitting in Silence is the beginning of the Mystic's Journey to God – The Second Coming of Christ Experience – The Afterlife Adventure for Souls – Meditation learned from Hindus, Buddhists & Shamans – What Good & Evil really is in the Eyes of God
Details
Summary
It's not every day that you get struck by lightening. I didn't die in that moment, but considering I wanted to talk to God-face-to-face, it would have been nice to have the Big Guy introduced Himself.
Hi! I'm Janine. God Chaser, Scientist, Shaman and Sacred Clown.
In this book I'll share with you how to:
• Chase God through the pathways of Christianity and get His Son to talk to you
• Converse with the Divine/Source using meditation from Hinduism & Buddhism
• Understand Native American Mysticism through the Medicine Wheel paradigm
What you are in the eyes of God is unlike anything you've been taught, if you've been raised Catholic like me. This book is dedicated to the seekers who crave a one-to-one conversation with God. Allow me to show you how it can be done.
Details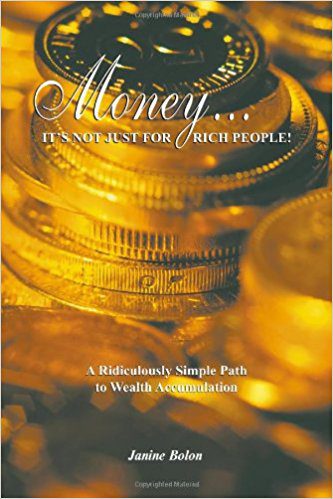 Summary
This book is the one that started me on my path as an international speaker, teacher & author. The 60/40 Principle was first put into print with this work and I am dumbfounded how it has continued to guide families, students and professionals out of debt and living the debt-free lifestyle!
Details
Summary
Money! You always need it but never have it, right? Well, now you're an up-and-coming adult, so it's time to get a new financial plan all your own. Cash, Cars and College will give you that plan. This short book will provide a step-by-step system for making, saving, and spending money – one that will have you started down the road to real riches before you finish college. These simple steps have been used successfully by hundreds of my young adult students (ages 12 to 20) to create cash and win wealth. So hop on the gravy train for yourself, and enjoy the ride!
Details
Summary
Debt got you down? Then ditch it! No one gets up each morning thinking, "Wow, it's a great day to pile on some more debt." Yet most of us do so without thinking, each and every day. This book will teach you a few easy principles to deal with the debt you already have and how to avoid digging any deeper.
Details